We are the best FortiWiFi-80CM suppliers in India. Also we are the top fortinet entry level security and firewall dealers and distributors in India. More than this gives the best Fortinet support services in India. Also we are the top fortinet product partners in India. We give today's best FortiWiFi-80CM price in India.
The FortiGate/FortiWiFi-80C series of wireless network security platform deliver complete security for branch offices. More than that gives the service provider customer premise equipment (CPE). In addition to this delivers retail networks, and mobile point-of-sale applications. They provide integrated compressive network security at hardware-accelerated speeds. This is ensuring that your application and network security does not act like a bottleneck and slow availability or performance. Also we are the best dealers of Fortinet products in India.
The FortiGate/FortiWiFi-80 Series platforms offer dual WAN Gigabit Ethernet (10/100/1000) links. Also for load balancing or redundant ISP connections delivering high availability and scalability to small or home office application. Six Fast Ethernet (10/100) internal security zone or switch ports and one dedicated DMZ port eliminate need for additional networking devices, reducing investment and management burden. An ExpressCard slot allows for optional 3G wireless WAN connectivity such as EVDO, W-CDMA, HSPA and GPRS. Also provides mobile network connectivity for remote deployments or backup data connectivity in the event of a network failure. The FortiGate/FortiWiFi-80CM platforms gives you the additional convenience and reliability of an analog modem.
The internal storage standard on the FortiGate/FortiWiFi-80 Series enables local caching of data for policy compliance or WAN optimization. WAN optimization lowers your networking costs and improves your application and network performance by reducing the amount of data transmitted over your WAN.
Taking advantage of the new FortiOS operating system, the FG-80C/CM boasts data SSL-encrypted traffic inspection, leakage prevention, identity-based policies, IPS enhancements. Alsoapplication control to offer protection against Web 2.0 threats and evasive applications and users. Deployment flexibility is enhanced with the ExpressCard slot supporting 3G WAN connectivity options. Rapid, turn-key deployment and easy management deliver low total cost of ownership and easily facilitate compliance with important legislative requirements such as PCI and Sarbanes-Oxley.
FortiWiFi-80CM Features & Benefits:
Delivers up to 700 Mbps firewall throughput with 2 GbE and 7 10/100 interfaces
Integrated, all-in-one security delivers enterprise-class threat protection for remote locations and smaller networks
Internal storage (FortiWiFi-81CM) provides local archiving of data for policy compliance or WAN optimization
PC Card slot supports broadband wireless such as EV-DO, W-CDMA, HSPA, and GPRS, which provides mobile network connectivity for remote deployments, or as a backup solution
A "single pane of glass" management console makes it easy for you to deploy and manage.
ExpressCard slot supporting 3G WAN connectivity and back-up modem (FortiGate-80CM, FortiWiFi-80CM/81CM)
Proven Security for Remote Offices, Retail, and Customer Premise Equipment
FortiGate/FortiWiFi-80 Series consolidated security appliances deliver comprehensive enterprise-class protection. This is mainly given for remote locations, branch offices, customer premise equipment (CPE) and retail networks. FortiGate/FortiWiFi-80 Series platforms feature an integrated set of essential security technologies in a single device to protect all of your applications and data. Simple per-device pricing, an integrated management console, and remote management capabilities significantly reduce costs associated with deployment and management.
Comprehensive Protection
Fortinet's market-leading security technology and research results in appliances providing unmatched protection against today's sophisticated multi-vector threats. FortiGate/FortiWiFi consolidated security platforms integrate firewall, IPSec and SSL VPN, antivirus, antispam, intrusion prevention, web filtering and vulnerability management into a single device at a single price. They also provide data loss prevention (DLP), application control, and endpoint NAC.
The FortiGate/FortiWiFi-80 Series specifically addresses many policy enforcement requirements included in government and industry regulations, such as the PCI Data Security Standard. They also ease migration to new industry standards such as IPv6, supporting dynamic routing or both IPv4 and IPv6 networks. Fortinet's Global Threat Research Team and ICSA Labs-certified inspection engines ensure the best possible protection in your network.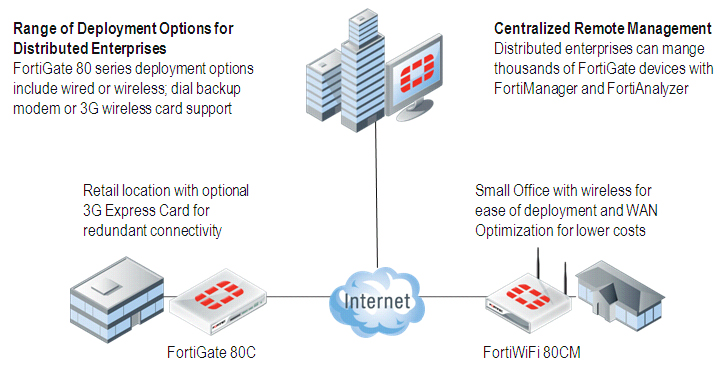 80 Series Deployment Options