We give the best FortiGate-30D-POE price in India. Also we are the top Fortigate product distributors in India. In addition to this we are the best fortinet entry level security and firewall product partners in India. Beyond this we are the top fortigate product FortiGate-30D-POE suppliers in India. More than this FortiGate security and firewall best price in India. More than this we are the best FortiGate-30D-POE re-sellers in India.
Install in Minutes with FortiExplorer
We give the best FortiGate-90D-POE price in Dubai. Also we are the top fortinet partners in Dubai. Fortinet distributors in India.
The FortiExplorer™ wizard enables you to easily and quickly set up and configure FortiGate and FortiWiFi platforms with easy-to-follow instructions. The application runs on Windows, Mac OS X desktops and laptops as well as popular mobile devices. Simply connect to the appropriate USB port on the appliance, and be fully protected in minutes.
3G/4G WAN Connectivity
The FortiGate/FortiWiFi-30D Series includes a USB port that allows you to plug in a compatible 3rd party 3G/4G USB modem, providing additional WAN connectivity or a redundant link for maximum reliability.
Compact and Reliable Form Factor
Designed for small environments, you can place it on a desktop or wall-mount it. It is small, lightweight yet highly reliable with superior MTBF (Mean Time Between Failure), minimizing the chance of a network disruption.
Superior Wireless Coverage
A built-in dual-band, dual-stream access point with internal antennas is integrated on the FortiWiFi-30D and provides speedy 802.11n coverage on both 2.4 GHz and 5 GHz bands. The dual-band chipset addresses the PCI-DSS compliance requirement for rogue AP wireless scanning, providing maximum protection for regulated environments.
Highlights:
FortiOS — The World's Most Advanced Security Operating System
Ease of Use
Web-based GUI Lite, 'single pane of glass' management with simplified menu options, minimizes deployment and configuration challenges while ensuring consistent policy creation and enforcement.
Contextual Visibility
Presents critical deep insights into historic or real-time network activities with data on threat details, IPs, users, devices, applications and more with hosted FortICloud Service.
Advanced Security
Extended features such as integrated token server, endpoint control and ondevice behavior-based heuristic engine add more security to organizations without incurring additional cost.
Complete and Real-time Security
Fortinet FortiGuard Subscription Services provide automated, real-time, up-to-date protection against the latest security threats. Our threat research labs are located worldwide, providing 24×7 updates when you most need it.
World-Class Technical Support and Documentation
Fortinet FortiCare support offerings provide comprehensive global support for all Fortinet products and services. You can rest assured your Fortinet security products are performing optimally and protecting your users, applications, and data around the clock.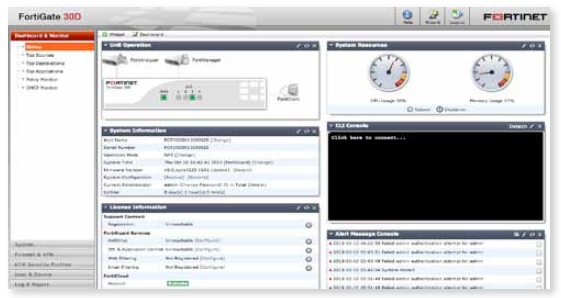 GUI Lite Dashboard — Single Pane of Glass Management
The FortiGate-30D and FortiWiFi-30D provide full enterprise-class UTM inspection including; firewall, intrusion prevention, antivirus/ antispyware, application control, web filtering, data loss prevention and antispam. In order to simplify the configuration steps a number of not generally required features have been removed. See the table below for feature comparison between models.
FEATURES
FORTIGATE -30D / FortiWiFi -30D
FG/FWF-60D and above
Systems
High Availability
•
Virtual Domain
•
Networking
DNS Server
•
Explicit Proxy
•
VLAN
CLI
•
Dynamic Routing
•
Policy Based Routing
CLI
•
Wireless Controller
CLI
•
Firewall
Traffic Shaping
•
Server Load Balance
•
User / device based Policy
•
•
UTM
IPS, Antivirus, Application Control, Web Filtering
•
•
Antispam
CLI
•
Vulnerability Scan
•
Endpoint Control
CLI
•
VPN
SSL VPN
•
•
IPsec VPN
CLI
•
FortiGate-30D
FortiWiFi-30D
FortiGate-30D-POE
FortiWiFi-30D-POE
Hardware Specifications
GbE RJ45 WAN Ports
1
1
1
1
GbE RJ45 Switch Ports
4
4
3
3
GbE RJ45 PoE Ports
–
–
1
1
Wireless Interface
–
802.11 a/b/g/n
–
802.11 a/b/g/n
USB Ports (Client / Server)
1/1
System Performance
Firewall Throughput (1518 / 512 / 64 byte UDP packets)
800 / 800 / 800 Mbps
Firewall Latency (64 byte UDP packets)
8 μs
Firewall Throughput (Packets Per Second)
1.2 Mpps
Concurrent Sessions (TCP)
200,000
New Sessions/Sec (TCP)
3,500
Firewall Policies (Max)
5,000
IPSec VPN Throughput (512 byte packets)
350 Mpbs
Gateway-to-Gateway IPSec VPN Tunnels
20
Client-to-Gateway IPSec VPN Tunnels
250
SSL-VPN Throughput
25 Mbps
Concurrent SSL-VPN Users (Recommended Max)
80
IPS Throughput
150 Mbps
Antivirus Throughput (Proxy Based / Flow Based)
30 / 40 Mbps
Max Number of FortiAPs (Total / Tunnel Mode)
2 / 2
Max Number of FortiTokens
100
Max Number of Registered FortiClients
10
Dimensions
Height x Width x Length (in)
1.38 x 7.17 x 5.24 in
Height x Width x Length (mm)
35 x 182 x 133 mm
Form Factor
Desktop
Weight
0.7 lbs (0.3 kg)
Environmental
Power Required
100 – 240 VAC, 50 – 60 Hz
Max Current
110 V / 0.6 A, 220 V / 0.3 A
110 V / 0.6 A, 220 V / 0.3 A
110 V / 1.0 A, 220 V / 0.5 A
110 V / 1.0 A, 220 V / 0.5 A
Total Available PoE Power Budget
–
–
15.4 W
15.4 W
Power Consumption (AVG / Max)
10 / 12 W
11.6 / 14 W
16.2 / 25.6 W
18.7 / 28.6 W
Heat Dissipation
41 BTU / h
48 BTU / h
87 BTU / h
98 BTU / h
Operating Temperature
32 – 104 °F (0 – 40 °C)
Storage Temperature
-31 – 158 °F (-35 – 70 °C)
Humidity
20 to 90% non-condensing
Operating Altitude
Up to 7,400 ft (2,250 m)
Compliance & Certifications
Compliance
FCC Part 15 Class B, C-Tick, VCCI, CE, UL/cUL, CB
Certifications
ICSA Labs: Firewall, IPSec, IPS, Antivirus, SSL VPN